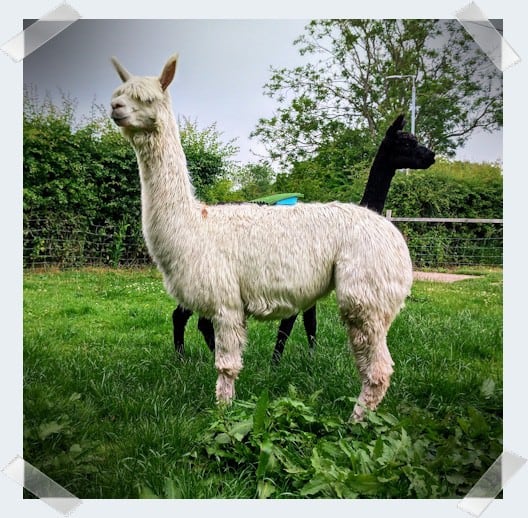 Greenside Suri Spring Flower
Pregnant White Suri Female
Date of Birth: 18th March 2014
Age: 8 Years old
Colour: White 
Due Date: 28th May 2022
Spring Flower is a fascinating girl for the coloured breeder. Genetically, she is a mid brown, but has an excessive display of the white spot gene, causing her to look predominantly white. Her true colour is revealed only by the spot on her back. This means, that she will breed as if she were a solid mid brown.  
Spring Flower has a long, fine, silky soft fleece, perfect for selling to doll makers.
She has been mated to our silver grey stud, AOA Jupiter. This is a great opportunity to purchase a female with a grey mating, guaranteeing a coloured cria with a 50% chance of grey. 
Please click for further information.
£3000
Various
Pregnant Female
Date of Birth: 2016
Age: 8 Years old
Colour: Grey & True Black
Due Date: May 2022
We have a couple of pregnant females we are looking to release to fund some work. Please get in touch for further information
£3600
We have a variety of packages available.
Discounts for purchases of multiple females:

5%

for 2 alpacas

10%

for 3+ females bought.

Stud Companion: Jupiter + Reyn for £2850

(save £150)

. 
We also offer 50% off stud services to returning females purchased from us and discounts to our customers.
If you can't find what you're looking for, drop us an email as we don't list everything.
Oriontree's Reyn
Castrated Male
Date of Birth: 27th August 2018
Age: 3 Years old
Colour: Light Silver Grey
Oriontree's Reyn is a fine-fleeced, sweet-natured chap. He has gorgeous semi blue eyes that look like glaciers – stunning – and he's a real poser. He would suit someone looking for a fibre animal as his second fleece was only 17.9mic! However, he is also a part of our walking team and, as such, is gentle and easy to handle. 
£1000
Oriontree's Absolute Anarchy
Castrated Male
Date of Birth: 5th June 2017
Age: 4 Years old
Colour: Solid True Black
Oriontree's Absoluite Anarchy or 'Anakin' to his friends is one of the most people-oriented alpacas we've ever encountered. He LOVES people. He wants to say 'hi' to everybody, even people cycling by. He is first at the gate to see who is visiting and very gently sniffs your face (which we call 'giving you a kiss' as you can plant one on his soft velvety nose). He is a kind and gentle soul who has been out on many walks with us and is easy to handle for routine treatments. However! he is, by far, our most enthusiastic alpaca and walks very fast! 
SOLD
AOA Jupiter
Suri Stud Male
Date of Birth: 9th August 2010
Age: 11 Years old
Colour: Silver Grey
An excellent opportunity to acquire a proven grey suri stud at a reasonable price. Jupiter has a history of producing greys and has excellent fleece stats for his age, demonstrating that he maintains fineness and has the potential to pass that on to his cria. He has a 50% chance of producing grey when mated to a female of colour.
Please click for further information.
£2000
Oriontree's Grenadier
Young Male
Date of Birth: 8th June 2021
Age: 8 Months old
Colour: Rose Grey
'Garfield', as his friends call him, is a confident, friendly young boy. He takes easily to anything you ask him to do and is always first to check out new things or people. He is the last cria from our old girl, Gracie, so we currently have his brother, who is one of our stud males, his sister, and even his father, who is another of our stud males. As such, we can offer him out to someone looking for a quirky chap in their lives. He is available as part of a package with two other males.
SOLD
Please note:
All our alpacas are halter-trained for ease of handling.
All our sales come with:
a full health history of the animal
after sales support
pregnancy certificate
pre-movement worming
live cria guarantee (7 day)
discounted stud services to returning females
microchip
BAS registration
No VAT
We can provide a Tb test at purchaser's cost.
If you require a course in how to care for your alpacas, we would be only too pleased to spend a day showing you the ropes.